Formaldehyde Tester for Gas Analysis Method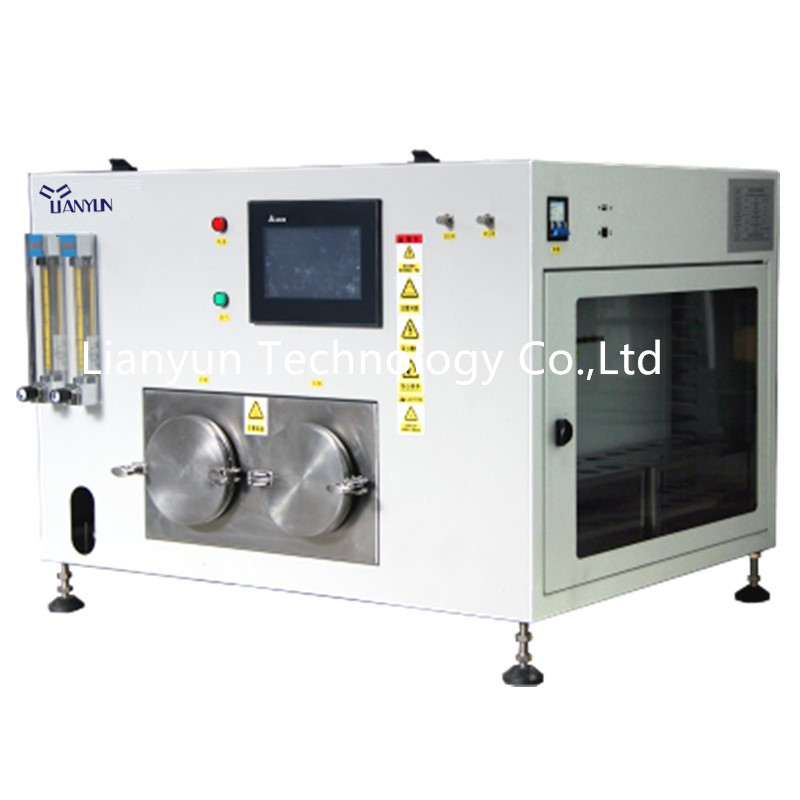 Model: Formaldehyde Tester
LY1004-N1
LY1004-N2
 Chamber Volume(ml)
4017
Chamber Dimension(mm)
Φ96×555
Chamber Number
1
2
External Dimension★ (mm)
W
600
848
D
690
690
H
650
650
Character
Temperature Range
RT+5 ℃~65 ℃
Humidity Range
≤ 3 %RH
Temperature Deviation
≤ ±0.5 ℃
Humidity Deviation
≤ ± 3% RH
Temperature Uniformity
≤±2 ℃
Humidity Uniformity
≤ ±0.5 ℃
 Temperature Stabilization Time
≤30 Min
Air Intake Flow
0~160L/h,Accuracy ±5 L/h
Sealing
Add 1000Pa Overpressure, Gas Leakage Less Than Capacity * 1 ‰ m³/ min
Pressure Range
1000~1200 Pa(Relative Pressure),Resolution1 Pa
Background Concentration mg/m3
Methanol:≤0.006 mg/m3
Temperature Control Method
Heating: Air Bath Electric Heating;
Cooling: Air Convection Cooling
Methanol Background Control
Washing and Purifying (Distilled Water)
Humidity Control Method
Color Changing Silicon Gel Desiccant
Function Reminder
Reminder (Sound and Light) for Warm-up Completion; Reminder (Sound and Light) for Finish of Work Cycle
Material
Shell
Q235A Cold Rolled Steel 1.5mm,Surface Electrostatic Spraying,White
Inner Cabin
SUS304 Stainless Steel 1.5mm
Thermal Insulation
Rubber and Plastic Insulation Cotton
Sealing
Silicon Gel(Food Grade)、PTFE
Operation Control
Monitor
 7-inch Color Touch Screen,Resolution 800×480
Monitoring project
Temperature, Pressure, Flow(Optional), Running Time, Fault Record
Control Method
Temperature Control: Proportional, Integral, Differential (P.I.D);
System Control:PLC+HMI
Resolution
Temperature:0.1 ℃
Communication
Provide a U Disk Standard Interface, a USB Standard Communication Port, an RJ-45 (Optional)
Storage and Record Function
RAM;U Disk;SD Card
Hydration Water Quality, Cycle
Distilled Water;>30 Days
Power
AC220(1±10%)V   (50±0.5)Hz  Ground Wire Protection
Installed Capacity(Kw)
1.5
Weight(Kg)
60
80
Noise(dB)
≤50 dB
System Protection
High and Low Voltage Protection, Over-current Protection of Refrigeration System; Over Temperature Protection; Motor Over-current Protection; Water Shortage Protection; Power Supply Phase Loss, Phase Sequence Protection, etc.
Reference standard: GB 17657-2013, LY/T 1981-2011, EN 717-2 1995, GB/T 23825-2009, etc.
GB/T 17657-2013 Test Methods of Evaluating the Properties of Wood-based Panels and Surface Decorated Wood-based Panels
LY/T 1981-2011    Testing Apparatus for Formaldehyde Emission by the Gas Analysis Method
EN 717-2: 1995      Wood-based Panels – Determination of Formaldehyde Release – Formaldehyde release by the gas analysis method
GB/T 23825-2009  Wood-based panels—Determination of formaldehyde release—Gas analysis method
★ Does not include shape protrusions
Note: A specified number of compartments can be customized.
Application:
Determination of Formaldehyde Emission From Wood-based Panels And Their Products
Quality Control Of Production Enterprises
Research On Building Materials Pollution Technical Specification
Advanced Air Balance Temperature Control Technology
Temperature Rapid Balance Technology
Extreme Dehumidification Technology
Modular Design, Easy to Maintain
Double Cabin Temperature Automatic Balance, Record
Double Cabin Pressure Automatic Recording
Rich Reminder Function
Environmental Indicators:
Energy-saving Design, Green and Environmental Protection
Operating Power as Low as 0.5kw
Noise is Less Than 50 Decibels