Test Chamber For Air Filter and Air Purifier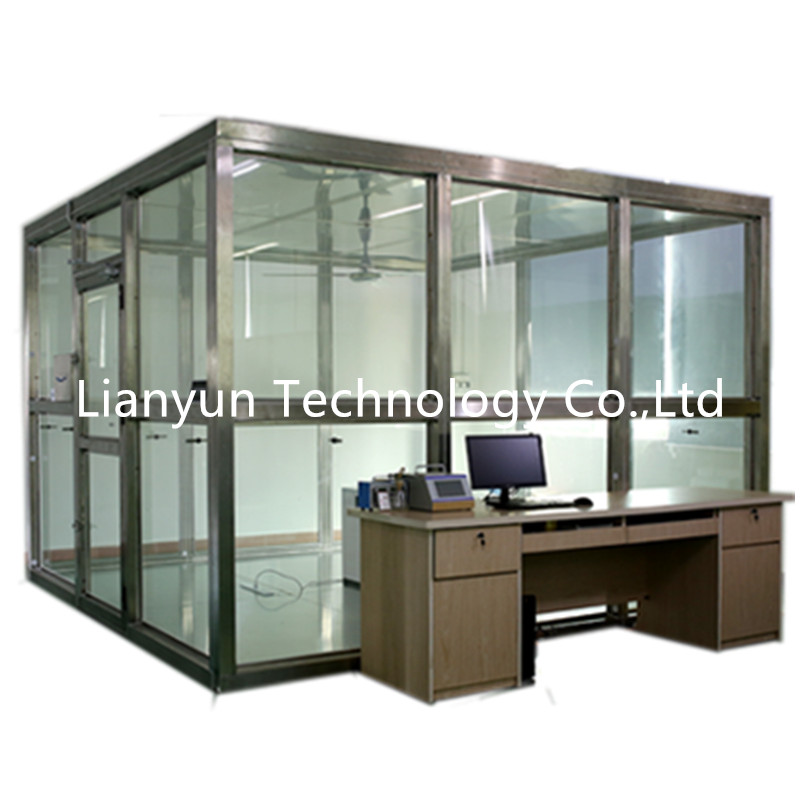 Model
LY1008-N03
LY1008-N30
Nominal Volume (L)
3
30
Internal Dimension
(mm)
W
1400
3400
D
1400
3500
H
1500
2500
External Dimension★
(mm)
W
1450
4140
D
1450
3550
H
1750
2600
Doors
W×H
750×1300
750×2150
Character
Temperature
 Range
20~30 ℃
Accuracy
0.1 ℃
Fluctuation
≤ ±0.5 ℃
Uniformity
≤ ±1.0 ℃
Humidity
Range
30~80 % RH
Accuracy
0.1% R.H
Fluctuation
≤ ±3% R.H.
Uniformity
≤ ±5% R.H.
Central Wind Speed
0.1~1.0 m/s( Continuously Adjustable)
Balanced Wind Cycle
>60 t/h
Sealing
The Number of Air Changes is not More Than 0.05 h-1
Background Concentration
Formaldehyde:≤0.02 mg/m3;Toluene≤0.02 mg/m3;TVOC≤0.05 mg/m3
 Hot Air Circulation Fan
Centrifugal Fan
 Stirring Device
Ceiling Fan: 0.7m in Diameter, Three Leaves
Ceiling Fan: 1.4m in Diameter, Three Leaves
 Sampling Port
3 pcs,Ø50
 Purification Device
Quick Release Purification Module 2×2 ; 1 Set
Quick Release Purification Module 4×4 ; 2 Sets
 Temperature Control Method
Room Temperature Balance (or Cold and Heat Against Equilibrium)
Cold and Heat Against Balance
Material
 Frame
Aluminum or Stainless Steel Tube
 Elevation
Tempered Glass or Stainless Steel Plate
 Ceiling, Floor
SUS304 Mirror Stainless Steel 1mm、1.5mm
Sealing
Silicon Gel(Food Grade)、PTFE
Operation Control
Monitor
7-inch color touch screen,Resolution 800×480,Remote Control (Optional)
 Real-time Monitoring Project
Temperature, Humidity, Liquid Level, Running Time, Fault Record, Formaldehyde Concentration (Optional)
Control Method
Temperature and Humidity: Proportional, Integral, Differential (P.I.D);
System Control:PLC+HMI
Resolution
Temperature:0.1 ℃、Humidity0.1%R.H.、Formaldehyde:0.01ppm
Communication Interface
USB-A,1 pcs;  USB-B,1 pcs;  RS232,1 pcs;  RS485,1 pcs;  RJ-45 1 pcs(Optional)
Storage and Record Function
RAM;U Disk;SD Card
 Filter Replacement Cycle
>5000h(Cumulative Operation)
 Floor Bearing
500 kg/m2
Power
AC380(1±10%)V   (50±0.5)Hz    Three-phase Four-wire+Ground Wire Protection
Installed Capacity(Kw)
1 KW
5KW
Noise(dB)
≤55
≤65
System Protection
High and Low Voltage Protection and Overload Protection of Refrigeration System; Over Temperature Protection; Gas Supply Overvoltage Protection, Motor Overcurrent Protection; Water Shortage Protection; Power Supply Phase, Phase Sequence Protection, etc.
Reference Standard:
GB/T-18801-2015 Air purifier;
GB 21551.3-2010 Antibacterial, Sterilization and Purification Functions for Household and Similar Electrical Appliances Special Requirements for Air Purifiers.
Remarks: The 3 cubic meter test box is divided into two types: temperature and humidity control and non-control. When temperature and humidity are not controlled, the temperature and humidity depend on the environment to be placed.
★ Does not include shape protrusions
Application
Air Purifier Performance Test
Similar Purification Equipment Research
Technical Specification
Industrial Clean Room
Built-in Medium Efficiency and High Efficiency Particle Filter
Particle Purification Efficiency is Greater Than 99.9%
Built-in VOC Adsorption Purification Unit
Purification Unit is Updated Quickly
Quick Ventilation
Automatic Recording of Temperature and Humidity
Environmental Indicators:
Energy-saving Design, Green and Environmental Protection
Operating Power as Low as 0.2/2 kw Noise is Less Than 65 Decibels